I am often asked why I chose to write about women's yoga. Before I answer this, let me make clear that I am not opposed to men and women being taught together. After all, we have so much in common. Our skeletal systems provide the same support; we breathe the same air in the same way; our hearts pump blood throughout the body in a similar manner. There are important physical differences, of course. For example, a woman's frame is generally smaller; she is physically weaker and often more flexible; and her pelvis is wider. But are these differences enough to warrant creating a special practice for women? I would say no. Rather, it is the complexity of a woman's reproductive system that demands a different approach.
In this book I present a yoga practice that honors and relates to the female body. I teach women to observe their hormonal rhythms and to watch how they play out in the body and the emotions. Armed with this awareness, a woman can fine-tune her yoga practice to co-ordinate with her own unique menstrual pattern. Practicing this way allows her to establish vibrant good health, and open herself to her connection with nature and draw strength from her innate inner wisdom. Without this shift in focus, a woman's yoga practice is at best incomplete and at worst depleting or sometimes even harmful.
The book gives sequences for each phase of the menstrual cycle, from the premenstrual phase (supported bridge pose stabilizes mood swings), menstruation (restorative poses allow the body to rest), and the post-menstrual phase (inversions allow the body to cleanse and recover). By ovulation when a woman is at her peak, her yoga practice has built back up to its full strength and variety. In addition, The Woman's Yoga Book offers solutions for a variety of menstrual and premenstrual problems, including amenorrhea (failure to menstruate), menorrahgia (excessively heavy periods) and dysmenorrhea (painful periods).
In order for the instructions in this book to be clear and easy to understand, I have used my past experience in animation in the way I have prepared my drawings.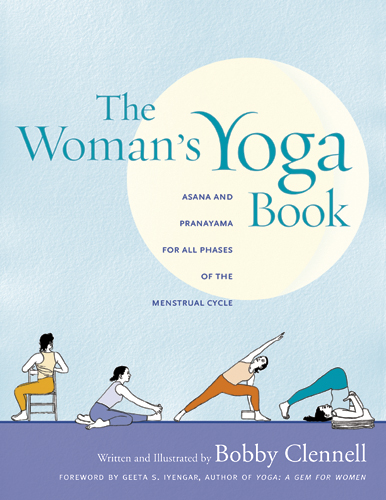 The Woman's Yoga Book: Asana and Pranayama for All Phases of the Menstrual Cycle
Written and Illustrated by Bobby Clennell
Foreword by Geeta S. Iyengar, author of Yoga: A Gem for Women
ISBN-10: 1-930485-18-2
ISBN-13: 978-1-930485-18-1
Trade Paper
8 1/2" x 11"
256 pages
735+ color illustrations
$24.95
Pub Date: May 2007
The Woman's Yoga Book just came out in China!